Chemical Filming is a very common and inexpensive finish, used by several industries for various products and purposes. The chemical in question is a sealant, which adheres to and alters the exterior of a metal part, creating a thin film of material that provides corrosion protection for metal parts. In many cases, this chemical film coating is the final step in the production process, but it's also common to find chemical film coatings used to prime the surface of a product for paint application.
Chemical film coating, also called chemical conversion coating, results in a variety of finishes and colors, varying from clear and iridescent colors to blue, green, gold and even black. In general, the darker the color, the stronger the chemical film coating and the more resistance it will present to corrosive forces, though there are some exceptions.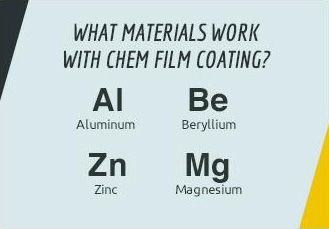 In addition to color, chemical films vary according to their composition and purpose. To categorize chemical films, most companies defer to the military's MIL-DTL-5541F specification. This specification organizes chemical films into the following categories: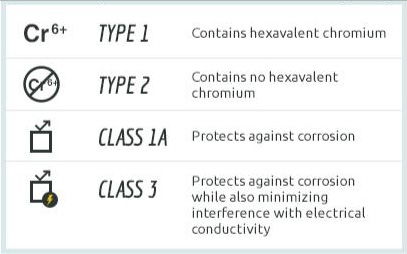 Type 1: Type 1 chemical film coatings contain hexavalent chromium, which is the reason the chemical film coating process was historically called "chromate conversion." While this was a standard recipe previous to the 21st century, exposure to this chemical is now tightly regulated in the United States by both the EPA, as an environmentally hazardous chemical, and by OSHA, as a carcinogenic chemical.
Type 2: Compositions of this type contain no hexavalent chromium and are now becoming the standard within most industries. Typically, hexavalent chromium is replaced with another chemical, such as trivalent chromium, zirconium or titanium.
Class 1A: This class means the coating's purpose is to protect against corrosion, so the coat tends to be much thicker and darker to offer improved protection. This class can also mean the chemical coating can be used as a primer for paint. These paints can be decorative or utilitarian. For example, the military often uses chemical agent-resistant coating paint, also known as CARC paint, on a wide variety of vehicles and equipment, both on and off the field, as added protection against chemical agents.
Class 3: This class of chemical film coating is designed to protect against corrosion while also minimizing interference with electrical conductivity. Typically, these coatings are slightly thinner, with a lighter coating weight and color than Class 1A coatings.