CNC Machining, Laser Etching, Silk-Screening, Zinc Plating, Chemical Filming, Anodizing, Wet Painting, Electro-Polishing
---
CNC (Computer Numerical Control) Machining is a process used in the manufacturing sector that involves the use of computers to control machine tools. Tools that can be controlled in this manner include lathes, mills, routers and grinders. CAM (Computer aided manufacturing) software makes the CAD drawing/design into a code which is them used to control the machine to cut to specs on the drawings.
---
Laser engraving, which is a subset of laser marking, Laser marking, on the other hand, is a broader category of methods to leave marks on an object, which also includes color change due to chemical/molecular alteration, charring, foaming, melting, ablation, and more. The technique does not involve the use of inks, nor does it involve tool bits which contact the engraving surface and wear out, giving it an advantage over alternative engraving or marking technologies where inks or bit heads have to be replaced regularly.
The impact of laser marking has been more pronounced for specially designed "laserable" materials and also for some paints. These include laser-sensitive polymers and novel metal alloys.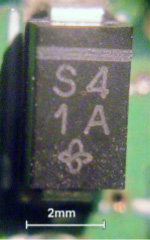 The term laser marking is also used as a generic term covering a broad spectrum of surfacing techniques including printing, hot-branding and laser bonding. The machines for laser engraving and laser marking are the same, so that the two terms are sometimes confused by those without knowledge or experience in the practice.
---
Screen printing is also a stencil method of print making in which a design is imposed on a screen of polyester or other fine mesh, with blank areas coated with an impermeable substance. Ink is forced into the mesh openings by the fill blade or squeegee and by wetting the substrate, transferred onto the printing surface during the squeegee stroke. As the screen rebounds away from the substrate the ink remains on the substrate. It is also known as silk-screen, screen, serigraphy, and serigraph printing. One color is printed at a time, so several screens can be used to produce a multicoloured image or design.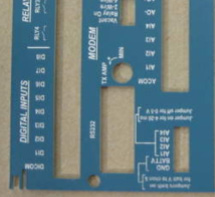 There are various terms used for what is essentially the same technique. Traditionally the process was called screen printing or silkscreen printing because silk was used in the process prior to the invention of polyester mesh. Currently, synthetic threads are commonly used in the screen printing process. The most popular mesh in general use is made of polyester. There are special-use mesh materials of nylon and stainless steel available to the screen printer. There are also different types of mesh size which will determine the outcome and look of the finished design on the material.
---
Zinc Plating is a surface covering in which a metal is deposited on a conductive surface. Plating has been done for hundreds of years; it is also critical for modern technology. Plating is used to decorate objects, for corrosion inhibition, to improve solderability, to harden, to improve wearability, to reduce friction, to improve paint adhesion, to alter conductivity, to improve IR reflectivity, for radiation shielding, and for other purposes. Thin-film deposition has plated objects as small as an atom,[1] therefore plating finds uses in nanotechnology.
There are several plating methods, and many variations. In one method, a solid surface is covered with a metal sheet, and then heat and pressure are applied to fuse them (a version of this is Sheffield plate). Other plating techniques include electroplating, vapor deposition under vacuum and sputter deposition. Recently, plating often refers to using liquids. Metallizing refers to coating metal on non-metallic objects.
---
Chemical Filming is a very common and inexpensive finish, used by several industries for various products and purposes. The chemical in question is a sealant, which adheres to and alters the exterior of a metal part, creating a thin film of material that provides corrosion protection for metal parts. In many cases, this chemical film coating is the final step in the production process, but it's also common to find chemical film coatings used to prime the surface of a product for paint application.

Chemical film coating, also called chemical conversion coating, results in a variety of finishes and colors, varying from clear and iridescent colors to blue, green, gold and even black. In general, the darker the color, the stronger the chemical film coating and the more resistance it will present to corrosive forces, though there are some exceptions.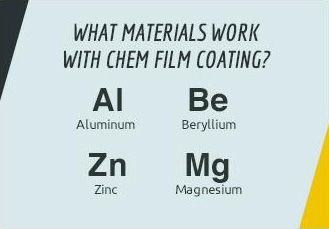 In addition to color, chemical films vary according to their composition and purpose. To categorize chemical films, most companies defer to the military's MIL-DTL-5541F specification. This specification organizes chemical films into the following categories: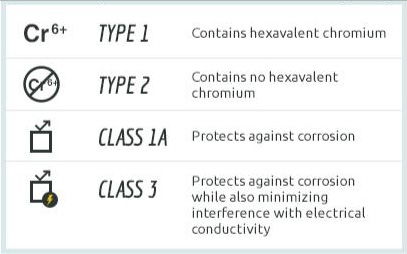 Type 1: Type 1 chemical film coatings contain hexavalent chromium, which is the reason the chemical film coating process was historically called "chromate conversion." While this was a standard recipe previous to the 21st century, exposure to this chemical is now tightly regulated in the United States by both the EPA, as an environmentally hazardous chemical, and by OSHA, as a carcinogenic chemical.
Type 2: Compositions of this type contain no hexavalent chromium and are now becoming the standard within most industries. Typically, hexavalent chromium is replaced with another chemical, such as trivalent chromium, zirconium or titanium.
Class 1A: This class means the coating's purpose is to protect against corrosion, so the coat tends to be much thicker and darker to offer improved protection. This class can also mean the chemical coating can be used as a primer for paint. These paints can be decorative or utilitarian. For example, the military often uses chemical agent-resistant coating paint, also known as CARC paint, on a wide variety of vehicles and equipment, both on and off the field, as added protection against chemical agents.
Class 3: This class of chemical film coating is designed to protect against corrosion while also minimizing interference with electrical conductivity. Typically, these coatings are slightly thinner, with a lighter coating weight and color than Class 1A coatings.
---
Anodizing is an electrochemical process that converts the metal surface into a decorative, durable, corrosion-resistant, anodic oxide finish. Aluminum is ideally suited to anodizing, although other nonferrous metals, such as magnesium and titanium, also can be anodized.
The anodic oxide structure originates from the aluminum substrate and is composed entirely of aluminum oxide. This aluminum oxide is not applied to the surface like paint or plating, but is fully integrated with the underlying aluminum substrate, so it cannot chip or peel. It has a highly ordered, porous structure that allows for secondary processes such as coloring and sealing.
Anodizing is accomplished by immersing the aluminum into an acid electrolyte bath and passing an electric current through the medium. A cathode is mounted to the inside of the anodizing tank; the aluminum acts as an anode, so that oxygen ions are released from the electrolyte to combine with the aluminum atoms at the surface of the part being anodized. Anodizing is, therefore, a matter of highly controlled oxidation—the enhancement of a naturally occurring phenomenon.
---
Wet Painting is the process of applying paint to a ferrous or non-ferrous part for finishing. The typical thickness of the coating is between 15-20 micrometers. When the substrate to be painted is properly treated this coating can provide excellent corrosion resistance.
It is debated which is best, powder coating or wet paint. Wet paint is a better choice over powder coat when a thinner coating is required. It is also the go to for specific color match that can't otherwise be achieved.
Some benefits of this finish are:
Thin finish
Wide color selection
Economical
Corrosion resistance
---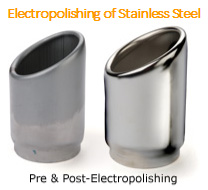 Among the preplate finishing services offered by Master Finish Company is electropolishing. Often called reverse plating, electropolishing removes a variety of surface contaminants from the surface of stainless steel, leaving behind a higher concentration of nickel and chromium molecules at the part surface. Electropolishing works hardest on the micro peaks of the surface providing a smoother, brighter surface. This finishing process improves corrosion resistance and the appearance of the part.
Electropolishing works by an electro-chemical reaction in which metal dissolves faster at surface micro peaks, creating a leveling effect on the surface of the work piece. This process makes electropolishing an excellent option for deburring and general preparation of stainless steel surfaces prior to plating.